Any good WordPress website needs to be well optimized for search engines if it wants to get any traction in the SERPs. While there are a number of ways to achieve this, one of the simplest is to install a WordPress SEO plugin. These plugins come with various features that can help improve your website's ranking, including the ability to add meta tags, optimize your permalink structure, and generate sitemaps. In addition, many WordPress SEO plugins also allow you to monitor your website's progress with detailed reports and analytics. With so much to offer, it's no wonder that WordPress SEO plugins are one of the most popular tools for improving search engine optimization.
Which is the best SEO plugin for WordPress?
If you're looking for the best SEO plugin for WordPress, you have a few different options to choose from. Rank Math is a popular choice, and it offers a comprehensive set of features to help you improve your website's ranking in search results. Yoast SEO is another solid option, and it's especially easy to use if you're new to SEO. Whichever plugin you choose, make sure that it includes features like keyword research and analysis, sitemap generation, and the ability to edit your website's metatags. With the right plugin, you can take your WordPress website to the next level.
Is WordPress SEO plugin free?
If you're looking to improve your WordPress site's SEO, you may be wondering if there are any free plugins available. While there are many great paid SEO plugins out there, there are also a few good free options. One popular free plugin is Rank Math. Rank Math can help you to optimize your site's title and meta tags, generate XML sitemaps, and more. Another great free option is Yoast SEO. Yoast SEO includes features like auto-generated descriptions and keywords, support for custom post types, and Google Analytics integration. So whether you're on a budget or just prefer free products, there are some great WordPress SEO plugins available.
Can SEO be done on WordPress?
Yes, SEO can be done on WordPress! In fact, WordPress is a great platform for SEO because it's easy to use and there are a lot of plugins and tools available to help you optimize your website. Here are a few tips for doing SEO on WordPress:
Choose a good theme: A theme that is well-coded and optimized for SEO will make it easier for you to get your website ranked high in the search engines.
Use keyword-rich titles and descriptions: This will help your website show up in the search results when people are searching for keywords related to your business.
Optimize your images: Include keywords in your image file names and fill out the alternate text field with a brief, keyword-rich description of each image.
Use anchor text wisely: When linking to other pages on your website, use keyword-rich anchor text so that the link helps your website rank higher for those keywords.
Install an SEO plugin: There are several great SEO plugins available for WordPress, such as Yoast SEO or All in One SEO Pack. These plugins can help you automate some of the more tedious aspects of SEO, such as creating meta.
7 Best WordPress SEO Plugins to Boost Your Rankings
WordPress SEO plugins can help take your website to the next level. By using these plugins, you can make your website more visible on search engine results pages, helping you to attract more traffic and grow your business. In this article, we will list seven of the best WordPress SEO plugins that are currently available. Read on to find out more!
Read More: Top 5 WordPress Membership Plugins for Your Website
Are you a WordPress user? If so, then you might be interested in Rank Math, a new plugin that promises to make your life easier. Rank Math is a plugin that automatically optimizes your website for search engines. It also helps you to manage your website's titles, descriptions, and keywords. In other words, it takes care of the technical aspects of SEO so that you can focus on creating great content. The plugin is free to use, and it is compatible with all major WordPress themes and plugins.
The new and improved Google Analytics for WordPress integration with Search Console brings essential information right inside your dashboard. You can see how many search impressions you're getting, what keywords are ranking in those searches (and their rankings), as well as any errors that might be preventing traffic on the website itself!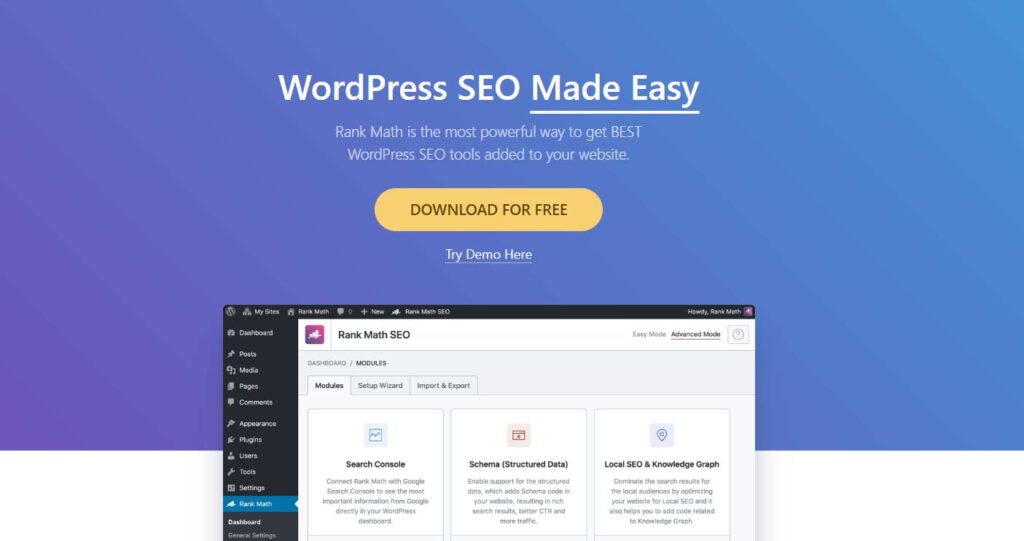 Rank Math comes with an inbuilt 404 monitor, redirections, and rich snippets. It also provides local SEO tools like XML Sitemaps for your website's pages as well as Automated Image SEO which helps you rank better on Google images by analyzing each image one by one to see how they can be optimized so that people will find what it is exactly about them being looked at when someone clicks through!
The world of Artificial Intelligence (AI) is already a part of our everyday life, starting with the simplest search in Google to powering complex computations. AI has made its way into many technologies and tools that are used by people all over this planet— Rank Math takes advantage through their assistance for optimizing your website so you can rank higher on searches!
The free and premium plugins provide you with all of the tools necessary for your business, regardless if it's on a budget or not. The cost is only $59 for unlimited personal sites which makes this an affordable deal even when compared to other SEO WordPress plugin costs in comparison!
So if you're looking for an easy way to improve your website's SEO, then Rank Math is definitely worth checking out.
Yoast SEO is a popular WordPress plugin that helps you to optimize your website for search engines. It offers a variety of features, including the ability to control which pages are indexed by Google, the ability to add metadata to your pages, and the ability to generate sitemaps. Yoast SEO also has a built-in keyword research tool, which can help you to choose the best keywords for your website. In addition, Yoast SEO includes support for social media integration, so you can share your content on Facebook and Twitter. With its many features and its easy-to-use interface, Yoast SEO is a powerful tool for any WordPress user who wants to improve their website's search engine ranking.
With the premium features of Yoast SEO, you can get more advanced tools like keyword optimization for five keywords on a page and previewing what your website will look like when optimized with Twitter or Facebook. You should also be aware that this is just one small portion of all available functions within their plugin; there are plenty of other things worth checking into!
The free and premium plugins are both great deals for those who want to improve their site's rankings, but there is one major difference. The paid plugin offers more features than the others while still maintaining its price tag as being among some of the best SEO WordPress tools available on market today (only $89).
The WordPress All-in-One SEO Pack Plugin is a versatile tool that can help you optimize your website for better search engine visibility. With this plugin, you can customize your title tags and Meta descriptions, as well as set up canonical URLs to avoid duplicate content. You can also use the plugin to create XML sitemaps, which can help search engines index your site more effectively. In addition, the plugin includes a handy feature that allows you to automatically generate social media metatags, which can improve your click-through rates from social media sites. With so many useful features, it's no wonder that the WordPress All in One SEO Pack Plugin is one of the most popular SEO plugins for WordPress.
In 10 minutes, you will be able to set up all of WordPress' advanced SEO features. You'll have access to XML sitemaps and optimized search appearance so that your website appears higher on Google when people do a quick search for it online – this is especially helpful if there's an issue with spammy or low-quality content! Meta titles and descriptions provide additional information about what is being sold on each page within the site as well as keywords that help rank webpages better in SERPs (search engine results pages). Open Graph functionality allows social media followers to know what their friends can find.
The premium plugin is a deal that any business would be lucky to have. For only $99 per site, you get access to not just one but two high-quality SEO WordPress plugins in the same package!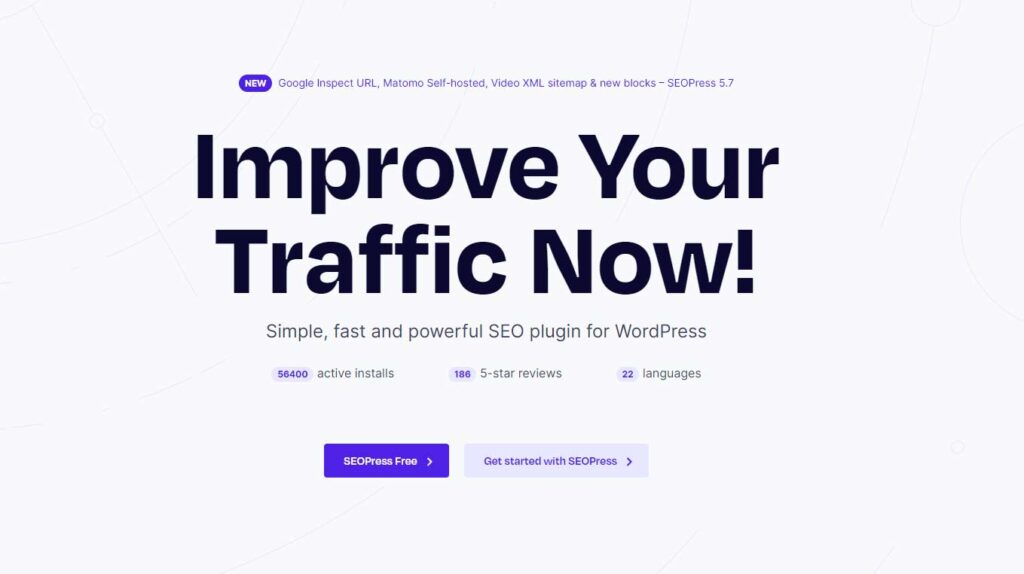 If you're running a WordPress site, then you know how important it is to have a good SEO plugin. After all, SEO is essential for getting your site seen by potential customers and readers. And with the right plugin, you can easily optimize your site for the search engines.
One plugin that you may want to consider is SEOPress. This plugin offers a variety of features that can help you improve your site's SEO, including automatic XML sitemaps, social media integration, and more. Plus, it's easy to use and configure, so you can get started right away.
So if you're looking for a WordPress SEO plugin that can help you improve your site's visibility and ranking, be sure to check out SEOPress.
Looking to improve your SEO on WordPress? Check out the WordPress Slim SEO plugin! This easy-to-use plugin lets you customize your titles and metatags for each post and page, giving you complete control over your SEO. The plugin also automatically generates sitemaps and robots.txt files, making it easier for search engines to index your site.
Slim SEO offers a variety of customization options that will help you integrate your site with the latest technologies. You can add custom code to various parts, including header and footer – this is excellent for integrating solutions such as Google Analytics or other types of tracking code!
This plugin doesn't have on-page analysis features but it does provide some helpful tools that will allow users with no technical knowledge at all to get their sites ranked higher in search engines such as Google or Bing!
Read More: 5 Best WordPress Security Plugins for your Website
7. The SEO Framework
With the SEO Framework, you can get a fast and lightweight plugin for WordPress without any ads or upsells. It strips away some of those pesky bells & whistles that might be unnecessary in order to focus on helping site owners keep their page speed high while also spending less time figuring out confusing articles about search engine optimization (SEO). Sometimes considered even better than Yoast – due largely because it does have an easier-to succeed visual interface with more flexible targeting options like slightly off words/synonyms; this makes fixing keywords much simpler!
Some Features with Extension
Incognito ensures that all development comments are hidden from The SEO Framework.
The SEO Framework to help promote your articles and pages on AMP-enabled websites.
Local is a great way to ensure that your important local information for search engines gets stored in the right places.
Connect your website to Google Analytics and Facebook Pixel with Cord!
Focus helps you write targeted content that ranks with your keywords and synonyms.
The interface is perfect for beginners and offers advanced features with extensions. This plugin began as a project within the WPMUDEV community but has now been released to everyone at no cost!
7. Internal Link Juicer
If you're a WordPress user, chances are you've heard of the Internal Link Juicer plugin. This handy tool helps you to automatically link to related content on your site, improving the user experience and helping to boost your SEO. While the plugin is free to use, there is a pro version that offers more features and customization options.
The Internal Link Juicer plugin is designed to help you promote internal links on your WordPress site. When installed, the plugin will scan your content and Look for opportunities to link to other related content on your site. For example, if you have a blog post about dogs, the plugin might link to another post about dog breeds or dog care. This is a great way to encourage users to explore more of your site and find the information they're looking for. In addition, by linking to other content on your site, you can help boost your SEO. Search engines like Google reward sites that offer a good user experience by giving them higher rankings in search results.
Read More: Top 5 WordPress GDPR Cookie Notice Plugins
Conclusion:
SEO is always changing and it can be hard to keep up. Luckily, there are plenty of WordPress SEO plugins that can help you boost your rankings in 2022 (or any other year for that matter). Just make sure you pick the right plugin for the job and follow the instructions carefully. And if all else fails, don't forget – we offer web design services! Contact us today to get started on a website that will help you dominate your competition in search engines. Thanks for reading!